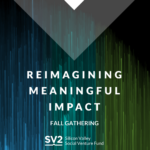 We invite our community of SV2 Partners, current and alumni Grantees and Impact Investees to join us for a virtual Fall Gathering: Reimagining Meaningful Impact. We also welcome Prospective Partners interested in learning more about SV2 to attend.
During these turbulent and challenging times, there are also exciting examples of innovation and resilience. This year we will hear from inspiring social change leaders: Cat Berman, CEO, CNote (SV2 Impact Investee) and Villy Wang, Executive Director, BAYCAT (SV2 Grantee). And we'll honor one outstanding SV2 Partner who will receive the 2020 Laura Arrillaga-Andreessen award for their contributions to SV2's social impact and community.
We will also preview SV2 program plans this year to explore opportunities to reimagine meaningful impact for a more equitable and sustainable post-pandemic future. And we'll provide optional connection opportunities to build and deepen community relationships.
Given the disruptions from the coronavirus pandemic and heightened awareness of deep racial injustice, the need for strategic social investors and strong social ventures is greater than ever. We invite you to join us to reflect on how we, as change-makers, can join together to rethink and reinvent meaningful impact in the coming year.
Event Sponsor:
This session will be held in virtual format via Zoom. The meeting access info will be sent via Eventbrite confirmation emails. To access the meeting info, Eventbrite will require you to log in or create an account if you don't already have one. 
You will receive confirmation emails from Eventbrite 48 hours before the event, 2 hours before the event, and as the event begins. In any of these confirmation emails, click the orange "Go to online event page" box. This will take you to a screen with a gray "video" square. When you're ready to join the meeting, click on the arrow in the gray square, which will take you to the Zoom meeting. 
If you have additional questions, please contact  Lucinda Brommersma, Director of Partner Engagement.
RSVP