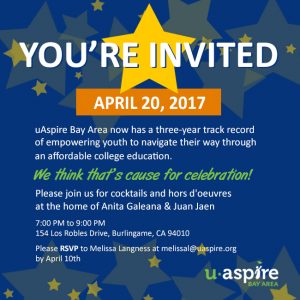 Date & Time: April 20, 7-9 PM
Appetizers and beverages will be served.
Location: 154 Los Robles Dr., Burlingame, CA 94010
Keynote Speaker Bio: Bob Shireman is a Senior Fellow at The Century Foundation, working on education policy with a focus on for-profit college accountability, quality assurance, and consumer protections. Bob previously served in the Clinton White House as a Senior Policy Advisor to the National Economic Council and later for the Obama Administration as Deputy Undersecretary in the Department of Education.
RSVP: melissal@uaspire.org by April 10
There will also be a celebration in San Francisco on April 26. Click here for more info.