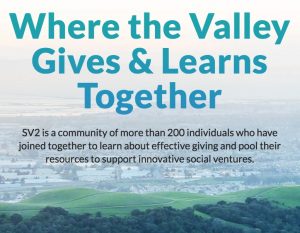 Over the past several months, a team of SV2 Board members, and staff embarked on a project to build a new mobile-responsive website that is vibrant, welcoming, easy to navigate, and informative. This also marks the final phase of the branding project that we initiated last year. The larger project was focused on creating a new logo, brand, and website to ensure that the communications tools that we use are emblematic of SV2's impact, community values, personality, and the bold goals we set forth in our strategic plan. Today, we are thrilled to introduce you to SV2's new website!
While the new site is mostly geared to an external audience (i.e. people who don't know a lot about SV2 but would like to learn more), Partners can use the site to navigate to our collaboration platform, my.SV2, RSVP to upcoming events, check out SV2's board members and Partner leaders, and read more about what's new at SV2 or what's going on with our Grantees and Impact Investees.
One of SV2's board members recently exclaimed, "Wow! I will be so proud to send everyone to this site! Awesome." We hope that you're as excited as we are to start using this new site. After you take it for a test drive, we hope you'll take a moment to comment on it on social media (Facebook, Twitter, LinkedIn, Instagram anyone!?). And if you've been meaning to tell a friend about SV2, now's a great time to reach out to share the new website with him or her. This new site makes it much easier for new audience members to understand what the SV2 community is all about.
A HUGE thank you to the two leaders of the SV2 Board's Website Working Group, Alison Elliott and Lyn Christenson, for their hard work on this project. Thank you also to the many other Board members who provided their feedback and ideas along the way, especially Laura Arrillaga-Andreessen, Bill Brownell, Dan Barritt, Shalyn Eason, Nancy Heinen, Lisa Jones, Kim Meredith, Diane Parnes, and Kelly Pope.