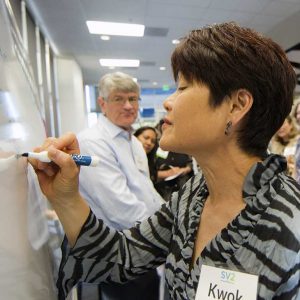 What is it?
Some call it nonprofit capacity building or technical assistance. At SV2, we call it "Beyond-the-Dollars Support" (BT$). Many in SV2's talented base of Partners contribute their time and professional expertise to work side-by-side with Grantee or Impact Investee leaders, tackling key organizational or strategic challenges in order to help strengthen their effectiveness and community impact. Read on to find out how BT$ works at SV2 and learn about some of SV2's most recent projects.
How does it work?
Once a grant is made, Lead Partners and SV2 staff meet with the Grantee or Impact Investee leaders and discuss the strategic goals and capacity building challenges of the organization. Together, we identify several possible projects aimed at helping the organization address key challenges and that are also a good fit for SV2 Partners' skillsets and time available.
Then, we work with the Grantee leaders to outline the goals for the project(s), the deliverables, timeline, and skills needed to complete the project. In parallel, we work to find SV2 Partners who have the professional skills, experience, and time to volunteer on the project.
What projects have been going on at SV2 lately?
1. Partner Dan Barritt worked with Grantee Global Press Institute (GPI) to provide user experience feedback on the digital platform they're redesigning to connect GPI editors with reporters in the field. Later this month, Partners Aarti Chandna and Usha Sekar will be helping GPI to create a holistic event fundraising strategy for the Bay Area.
2. Partners Linda Lazor and Rick Tinsley will host a Brainstorming Session for Silicon Valley Urban Debate League (SVUDL) later this month with Partners Jim Basile, Bob Falkenberg, Jan Half and Susan Hanson.  This session will help SVUDL form a pipeline plan to develop relationships with organizations serving similar middle school student populations.
3. As Grantee Village Enterprise prepares to launch a Development Impact Bond, Partners Nancy Heinen and Tony Stayner provided feedback on the pitch deck and shared advice on how to best pitch to impact investors.
4. Partner Kelly Pope is leading a technology task force with Grantee The Big Lift and has recently proposed a series of innovative technological solutions to improve efficiency and enhance student engagement. The next step will be to prioritize a few for pilot, potentially including SV2 Impact Investee Learning Genie, an edtech company serving early childhood educators.
How can I get involved?
First, please make sure that your profile is up-to-date on my.SV2. This is the first place SV2 staff and Lead Partners look when recruiting for a project because it allows us to search for the skillset identified by the Grantee or Impact Investee.
Next, keep an eye on your inbox. We will include Beyond-the-Dollars opportunities in upcoming newsletters and emails via my.SV2.
If you have any questions, email SV2's Director of Grantee Impact, Ashley Clark.