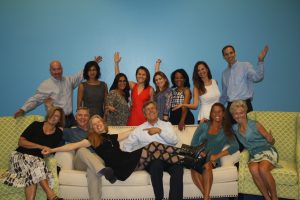 Three cheers to SV2's three outgoing board members in 2017: Lucy Caldwell Donovan, Alison Elliott, and Diane Parnes! Join us in thanking them for their remarkable leadership and thoughtful stewardship.
Alison Elliott and Diane Parnes concluded six years of board service this June. Alison has been a spectacular leader in so many areas during her tenure, including co-leading SV2's strategic branding process and drawing on her design thinking expertise to lead SV2 through designing key innovations in our 2014-17 strategic plan. As Board secretary, nonprofit finance expert, and leader of SV2's 2013 Executive Director search, Diane has strengthened SV2's board governance and organizational health and has brought a deeply valuable perspective from her nearly 20 years as a Partner. Lucy Caldwell Donovan completed one three-year term of service in June. Lucy has been our in-house expert on innovation and inspiration, serving on the steering committee for SV2's new Visionary Leadership Circle and advising on key strategic planning initiatives. Thanks to these three leaders!
We're also thrilled to welcome three incoming board members this summer: Jim Basile, Linda Lazor, and Sayuri Sharper. Jim, Linda, and Sayuri are all experienced SV2 leaders who will bring an impressive skill set to the Board. Read their full bios here.
Jim Basile is a litigation partner at Kirkland & Ellis. He co-led this past spring's Education Lightning Round and is on the board of current SV2 Grantee Silicon Valley Urban Debate League. Linda Lazor is Chief of Staff at former SV2 Grantee Partners in School Innovation and brings a strong technology marketing background. She currently serves as Lead Partner to Silicon Valley Urban Debate League. Sayuri Sharper is a retired high-tech executive and business litigator. She is currently Lead Partner to SV2 Grantee Global Press Institute and SV2 Impact Investee Learners Guild, as well as co-lead of the Impact Investing Working Group.