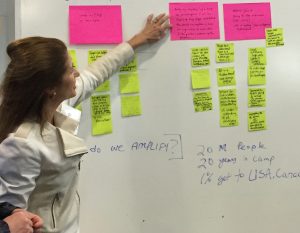 What might SV2 look like in several years? What ultimate impact does SV2 seek to have in Silicon Valley? And what activities will help us achieve that impact? These are just a few of the questions under consideration as a part of this year's strategic and business planning process.
SV2's Strategic Planning Steering Committee has been exploring some fresh, creative ideas that we are excited to share with you. Whether you're eager to share your feedback or you're just curious to learn more about these ideas for SV2's future, we hope you'll join us for one of two upcoming community-wide workshops – lunch on May 11 (RSVP) or dinner on May 16 (RSVP).
SV2 is pleased to be working with the team at Open Impact, who is helping to guide the SV2 Board of Directors through an inclusive strategic planning and business modeling process.
A Strategic Planning Steering Committee, made up of Board Members Bill Brownell, Lisa Jones, Kelly Pope, Tony Stayner, and Paru Yusuf, is leading this work, and will ultimately make a slate of recommendations to the full Board regarding SV2's vision and goals to guide the organization over the next several years.
To date the Steering Committee has:
Conducted three generative workshops with different subsets of SV2's Board
Gathered candid feedback from SV2's Grantees
Researched seven "big bets" that SV2 could explore to achieve even greater impact
After a great deal of work over the last three months, we are now ready to share some draft ideas and ask for your valuable input through an all-Partner survey and two interactive Partner workshops at SV2 in May.
The first workshop will be held on Thursday, May 11 from 11:15am – 1:30pm (RSVP); the second will be held on Tuesday, May 16 from 6:15-8:30pm (RSVP). The content in each workshop will be the same; please choose the time that better fits your schedule.
If you have any ideas that you'd like to share or questions about the process, feel free to reach out to any of the Steering Committee members listed above. Thank you in advance for your input!