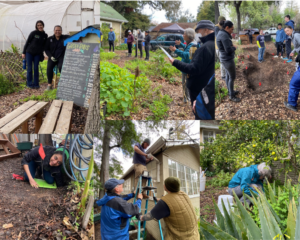 How might we take excess rainwater and put it to good use? This past February, we rolled up our sleeves and did some rain gardening in East Palo Alto – a water re-directing, fresh dirt-filled, joyful planting experience! We did this with Climate Resilient Communities (CRC) – our new Climate Justice Grantee Partner, and Fresh Approach. 
In this family-friendly Get Proximate event with SV2, 5 SV2 Partners and 1 staff participated alongside 20+ fellow community members. We learned about our water sources in the Bay Area and the importance of water conservation. We soon got to work! The day comprised weeding and cleaning up the garden site, digging holes, and preparing rain barrels. 
We had a very energizing and tangible experience working with CRC and Fresh Approach, two trusted and strong climate resiliency leaders in our communities. Here is what some of our Partners had to say about their experience and how it impacted them:
"We helped prep the site for a rain garden, to control overflow run-off and additional rain water absorption, while also providing a spot for added greenery. Hands-on volunteering alongside our non-profit partners gives me a deeper connection to  their work and the communities they serve." – Lisa Guerra, SV2 Partner and Board Member 
"The Get Proximate CRC Rain Garden event was a wonderful way to connect, both with members of the SV2 community, and with members of the Climate Resilient Communities ecosystem of local citizens and groups.  A great chance to learn about the details of rainwater collection–I had always thought it wasn't worth the trouble in our Mediterranean climate, when rains come over a limited period of three to four months.  I learned why I was wrong, and am now actively investigating the possibility of a pilot installation at my senior community.  It was also a chance to get wet and silly on a rainy Saturday morning: my weeding partner and I got wedged under a giant cactus and were in hysterics about the contortions it took to get free!"  – Nancy Grove, SV2 Partner and Partner Champion, Climate Resilient Communities 
"Seeing rain barrels installed makes real the concept of saving rainwater to water plants."  – Arthur Keller, SV2 Partner
More context about CRC's Rain Garden initiative:
"A main outcome of the 2020 East Palo Alto (EPA) Community Vulnerability Assessment was an emphasis on nature-based solutions to climate change, especially pertaining to flooding. Despite this widespread community interest, most EPA residents lack the training, information, and capital needed to install and maintain natural infrastructure in their own homes and neighborhoods.
The purpose of this project is to bring together, educate, and train EPA residents to install rain gardens and cisterns in local homes that mitigate flooding, drought, extreme heat, and other climate change impacts. Our goal is to create a community- and science-based strategy for city-wide scaling of rainwater harvesting systems, as well as garden/cistern installation and maintenance at a subset of EPA residences.
We are currently working to build 25 rain gardens and cisterns in East Palo Alto. The first phase of the project involves feasibility mapping, followed by workshops and informational sessions on natural infrastructure by CRC and project partners to share types, benefits, and resources for installation."
Source: East Palo Alto Rain Garden & Water Cistern Installation | Climate Resilient Communities