High school can be a formative and significant experience. Beyond the classes, lockers, extracurriculars, and questionable cafeteria food, students are developing their identities and sense of belonging. 
When we gather, students will take this opportunity to provide insights into their community; share challenges and accomplishments, and highlight the experiences that have shaped them. We're doing this on Halloween, feel free to come in costume if you'd like! There just might be a Halloween Contest! 
College is Real (CIR) identifies, motivates, educates and mentors the "college-aspirational" students at Richmond's three public high schools in order to have as many students as possible apply to, attend, and graduate from four-year colleges. We want to change the lives of the students in the program so they can ultimately improve the lives of their families and change their communities. 
CIR was selected as a Grantee Partner in SV2's 2022 Equity in Education Grant Round. 
This Get Proximate event is happening soon after the grantmaking as part of SV2's commitment to advancing strong trust and relationship building earlier on. Read more about how Get Proximate is a core approach embedded in our philanthropic work.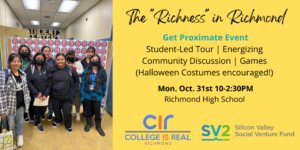 Monday, Oct. 31st | Richmond High School | 1250 23rd St, Richmond, CA 94804
Agenda: There is a combination of indoor and outdoor activities. 
9:30-10:00am:

Arrive 

10:00-10:25am:

Introductions + Overview of what CIR does 

10:25-10:30am:

Overview of the day

10:30-10:55am:

Student-Led Tour of High School Campus 

10:55-11:20am:

Icebreakers with Students

11:20-12:00pm:

Small Breakout Discussions

12:00-1:00pm:

Lunch

1:00-1:30pm:

Games 

1:30-1:50pm:

Reflection 

1:50-2:10pm:

Close and Next Steps