We can all see and feel vividly the effects of climate change in our own experiences: sea level rise, wildfires, heat, floods, drought, etc.  But what we don't see, is their disproportionate impacts on our frontline communities who are far more exposed due to their location, decades of discrimination, limited resources, and ignored voices.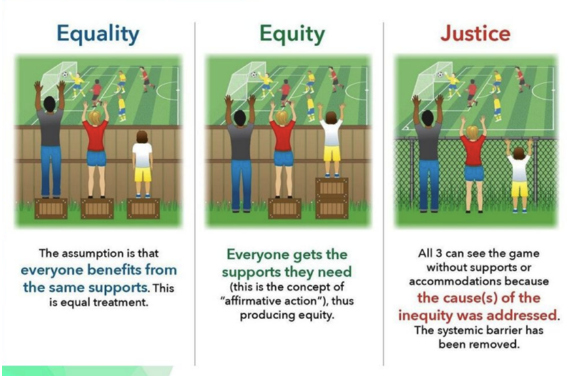 Our "Get Proximate Climate Justice" event, held in mid-March in East Palo Alto, provided us an invaluable perspective on these impacts.  We heard from 5 community-based organizations (CBOs) within San Mateo county who are responding urgently to their communities' needs to mitigate and adapt to climate change, through  securing resources and advocacy. We found that these voices were powerful and impactful: Climate Resilient Communities, North Fair Oaks Community Alliance, Nuestra Casa, Rise South City, and Youth United for Community Action.
Key to making this event successful was our amazing co-lead, Thrive Alliance, a nonprofit that supports more than 200 CBOs throughout San Mateo.  Thrive knew the CBOs that were most active in climate justice and encouraged them to lead the design and implementation of this event.
This "Get Proximate Climate Justice" event, initiated by SV2 Partners Jennifer McFarlane and Paul Traina, featured two variations from SV2's traditional approach.  First, we made it collaborative, inviting like-minded groups  such as SVCF, PACF, TPW and Toniic, as we can have a greater impact by working together. Second, our goal was to foster ongoing engagement in climate justice following the event, so we paired each CBO with an SV2 Partner to be their Champion at the event, and to encourage ongoing interest.  A huge thank you to Dennis Debroeck, Nancy Grove, Jon Goulden and Tony Stayer who volunteered alongside Paul and I for this undertaking.
The event took place in a new community building at Cooley Landing, EPA – a symbolic location as it had once been a toxic waste dump that was closed in 2007 with the help of YUCA, one of presenting CBOs, following years of EPA violations.  
From the start of the event, there was a palpable buzz from the about 15 community members who had gathered to make this event a success.  They were excited to engage with us, as well as to reconnect with each other again in person in the 'defrosting' Covid world.  
With about 45 in the room, Ever Rodriguez (ED of NFOCA) kicked off the event, talking about his own journey from feeling powerless as a day laborer, to empowerment when he first understood that immigrants could have a voice.  He got a degree at night and has felt empowered ever since.
Although each of the 5 CBOs had distinctive missions, they all had common themes: importance of empowerment through developing local leaders; the ongoing challenge of getting key decision makers to address their issues and their own strong bias to self-reliance, reflecting decades of discrimination and neglect by others.  
We found the presentations from each of the CBOs (see below) completely engrossing, and the 2 hours passed in a flash. We couldn't wait to get to lunch where we had the chance to connect with each of the leaders; and became only further engrossed — our lunch lingered well past our scheduled end time!
We gained so many insights from this experience: a greater appreciation of "the quality of the organizations' dedication and work"; "unique perspectives and issues across different communities"; and "the significance of trust".  And perhaps, most importantly "climate justice is no longer abstract and now seems actionable".
Next Steps:
We are encouraged with the level of interest from numerous  participants and hope to schedule an informational Zoom event soon, with 1-2 donor organizations that have recently funded some of the CBOs.  Stay tuned!
CBO and Presentations Summary
Nuestra Casa: Miriam Yupanqui leads this established organization which focused on education, leadership development and advocacy for the Latino community in/around EPA.  While long-time issues have been focused on housing, food security and clean water, Nuestra Casa has recently become a leader on issues of sea level rise, helping to change BCDC's (SF Bay Area Conservation and Development Commission) Sea-Level Rise Plan to address the many historic inequities in frontline communities.  Nuestra Casa builds on its self-reliance through their funding of data on key concerns (eg water quality) as well as of community-generated solutions.
Youth United for Community Action: Founded in 1994, YUCA focused early on environmental justice issues, having helped to close the toxic site at Cooley Landing.  Led by Ofelia Bello, YUCA combines the power of youth, with an impressive horizontal power structure and a fierce focus on action 'now'.  YUCA has been influential in getting their voices heard by organizations such as SFPUC, and in securing resources 'now', before it's too late.  They have helped to increase both water security through rainwater barrels, and food security with local sustainable gardens.
Climate Resilient Communities: Founded by Violet Saena as a project of Acterra (a SV2 grantee), CRC's focus is to educate CBOs about climate change so they can mobilize their own communities; engage decision makers; and to 'turn up' the volume to secure grants to fund resilience and mitigation.  Violet, a 20-year climate change veteran, is the glue and respected leader on 'all things climate'. The CRC participates in over 20 climate focused  partnerships in the Bay Area including County Governments, NGOs and Stanford – with the goal of securing resources for others.
North Fair Oaks Community Alliance was recently established by Ever Rodriquez to increase that community's resilience through securing grants and building local disaster resilience plans through 'Block Action Teams'.   North Fair Oaks, as an incorporated area of San Mateo, is effectively left to its own devices in addressing climate issues such as heat and wildfire smoke.  Ever is aiming to change this.
Rise South City was founded very recently by Julio Garcia, with the goal of increasing the effectiveness of voices of South San Francisco communities at the 'tables of power' (such as SFPUC, BCDC, CalTrans and PG&E) on issues such as sea level rise, air quality, flooding and contamination.  Julio is just getting started by further educating these communities especially around the need for climate resilience. 
To end: we want to acknowledge the invaluable support of the whole SV2 team in making this happen: Amy Badiani, Jody Chang, Paru Desai and David Onek.
Written by Jennifer McFarlane, SV2 Partner, Climate Justice Initiative Co-Lead