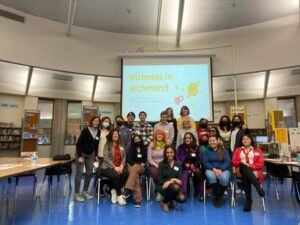 On October 31st, SV2 Partners and staff met students at Richmond High School and learned more about the Richmond community. It was such a treat! Twelve very bright and talented students who engage in the programs of College is Real, SV2 Grantee Partner, led us through a tour of their school. We learned a lot, including how students select academies / tracks, the schools' renowned band and Robotics club, mental health support, and inspiring family changemaking in the community. 
Angelica Arriaga, Executive Director, College is Real, thoughtfully facilitated discussion about the Richmond community's challenges and hopes. We had a roundtable discussion with the students about a recently canceled football game and how the school and community are often misperceived based on what people "hear" instead of what they "see" themselves. As students shared the struggles of people assuming they were unsafe to be around, they also shared their determination to push back against the stereotypes and contribute to their community wellness and thriving. 
When our group was asked to reflect on our time together, some responses were:
"It taught me that other people are actually interested in coming into Richmond High and wanting to learn who we are instead of just judging us"
"Impressed by the people and opportunities available at RHS"
"Definitely shifted my perception to be much more positive"
Per our Get Proximate practices, we were really able to listen, confront truths, and break down unconscious biases. The Richmond community is vibrant and aspiring, and we're so grateful to have experienced that directly!