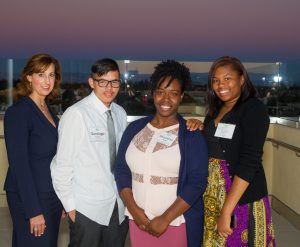 Silicon Valley Urban Debate League (SVUDL), one of SV2's 2016-19 Grantees, brings debate programs to low income schools in East Palo Alto, Redwood City, and San Jose, serving more than 300 students at eight schools as of Fall 2016.
Hear from the dynamic SVUDL team, who spoke at SV2's 2016 Fall Gathering, in this video. You'll meet Santiago, a promising young debater who has found his voice. You'll learn more about SVUDL'S work, why we are in awe of their superstar team, and why we get energized every time we're around these changemakers.
Through the rigor and thrill of the smart sport of debate, SVUDL helps low income youth tap the power of their voices to compete, excel, and change the world. Competitive debate fosters rhetoric and leadership skills that re-engage youth with their academics, encourage them to be leaders in their schools and communities, and prepare them for successful careers.
A number of SV2 Partners were recently trained to judge local debate tournaments. Consider joining "the team" by filling out this volunteer interest form (no experience necessary!).