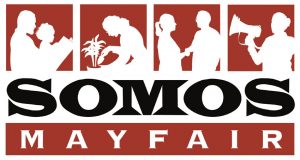 SV2's 2014-15 Education Grant Round winner, Somos Mayfair, works to support the residents of the Mayfair neighborhood in east San Jose in achieving their dreams and battling systemic inequities by promoting early literacy and fostering the wellbeing of families through social services, cultural activism, and community organizing. In this challenging political climate, Somos has been an invaluable resource for the more than 1,600 youth and families that the organization serves in the Mayfair community.
So what's new with Somos? Somos Mayfair was recently featured in The Giving Code report published by Open Impact as an example of a strong, local community-based nonprofit that is seeing increased need for its services at a time when it is very difficult to acquire flexible, multi-year funding for its work.  Somos' Executive Director Camille Llanes-Fontanilla has shared her perspectives with funder and nonprofit audiences at Giving Code workshops and learning sessions up and down the peninsula this winter.  You can even check out Camille in the second part of an upcoming SSIR webinar series on March 7 entitled "The Giving Code: Solutions for Bridging the Gaps."
What else? Lead Partners Kwok Lau and Mark Wilson recently met with the Somos Team to share feedback on some innovative new ideas for monetizing the expertise the organization has gained from its promotora model and launching a new pilot cooperative to improve the economic opportunities of its promotores.
Somos is also getting ready to celebrate its 20th anniversary! Consider sponsoring or attending Somos Mayfair's upcoming 20th anniversary event – Gracias a la Vida, May 18, 2017 from 5:30 to 8:30pm at the School of Arts & Culture at the Mexican Heritage Plaza. Contact Jessica Paz-Cedillos for more information.