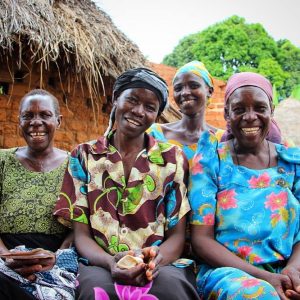 Village Enterprise, a 2015-18 SV2 Grantee, works to end extreme poverty in rural east Africa through entrepreneurship and innovation. Since their founding in 1987, Village Enterprise has started over 33,000 businesses and trained over 136,000 East African business owners, ultimately touching over 700,000 lives. We're honored to work with this pioneering organization, whose work has recently been lauded on an international stage by ImpactMatters and The Life You Can Save. And hear from Village Enterprise's Board Chair at SV2's 2015 Fall Gathering in this video to learn more about their inspiring work.
Village Enterprise serves individuals living in extreme poverty on less than $1.90/day. Village Enterprise's indigenous staff provide a year of rigorous business training, a micro-grant of $150 to start a business, ongoing mentoring, and a group business savings program. After a year of business training and saving,  entrepreneurs in Village Enterprise's program have on average doubled their personal savings, increased their food security by 178%, and increased their overall standard of living by 35%.
Village Enterprise has received several impressive accolades in recent months. They received a top rating in a rigorous "Impact Audit" through ImpactMatters, which identifies nonprofits that offer the best return on charitable dollars.  The Life You Can Save, which promotes effective giving through focusing on extreme poverty, also identified Village Enterprise as a top charity. In receiving each of these honors, Village Enterprise was lauded for their cost-effective model, evidence-based methodology, rigorous monitoring, and dedication to continuous learning and innovation.
SV2 is thrilled to work with Village Enterprise.  Many SV2 Partners, led by Lead Partners Nancy Heinen and Jill Olson, have engaged in Beyond-the-Dollars projects with their stellar team. Several Partners – including Lyn Christenson, Travis Culwell, Lucy Caldwell Donovan, Nancy Heinen, Jill Olson, and Sherilyn Stolz – partnered with Village Enterprise to beta-test and provide feedback on their new website. And as Village Enterprise prepared to launch a Development Impact Bond, Nancy Heinen and Tony Stayner provided feedback on the pitch deck and shared advice on how to best pitch to impact investors. We are grateful to be able to work with Village Enterprise for another year and a half, and we look forward to all the amazing work that is to come!