Our grantmaking and community engagement will advance climate justice. This can include supporting frontline communities in building resilience to climate change, addressing environmental consequences of our fossil fuel economy, and providing benefits from the transition economy. As an initial part of our Climate Justice Grant Round, SV2 is connecting with community changemakers to understand what climate justice in the Bay Area means, community strengths and challenges, and the opportunities to make an impact.  We're learning these opportunities include frontline communities addressing causes of injustice and leading positive change, supporting equitable access to solutions and resources, and ensuring that diverse perspectives contribute to driving policy and advocacy.
The Grant Round is led by Partners Jennifer McFarlane and Nancy Grove, and staff member Amy Badiani.
Here is a visual that helps clarify the difference between equality, equity, and justice: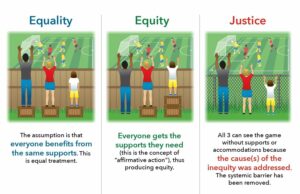 SV2 Partners and Community Partners (Grantees), please join us at an Open House on Zoom on Thursday, August 25th from 6:30-7:30pm to learn more about the Grant Round and opportunities for engagement. RSVP here. Also email Amy Badiani (abadiani@sv2.org), if you'd like to nominate Bay Area nonprofit or fiscally sponsored organizations and/or join the research and community engagement team.
Some guiding details for this Grant Round:
We strive to advance equity and trust based philanthropy throughout our learning and relationship building. SV2 will allocate $160,000 of unrestricted, multi-year funding across two organizations ($80,000 each). SV2 will also offer the selected organizations beyond-the-dollars support as helpful and friendship!
SV2 can best support organizations / Community Partners who match the following criteria.
SV2 is interested in deploying a greater share of grants to organizations led by underrepresented people of color.
501(c)(3) nonprofit or fiscally sponsored.

Has work and community reach in the Bay Area with executive leadership and Board presence in the Bay Area.

$500,000-$4 Million in revenue.

Organizations that are at "growth" stage in their lifecycle, they have a proven model and initial evidence of impact, and are still building their internal organizational capacity (e.g. learning and evaluation, strategy development, talent and human capital, operations and systems, finances and fund development). Typically, the organization is on the young side; if it has been in existence longer, it's in some sort of "renewal" period.

Addressing inequities and root causes (i.e. creating conditions to reduce the prevalence of an issue). 

Has not previously received a three-year grant from SV2 (

current Community Partners here

,

former Community Partners here

).
SV2 Partners: If you'd like to participate in the Grant Round, please join the Environment Group on mySV2 in order to receive future communications and access to files. Please contact Amy Badiani if you have questions about the Grant Round or trouble accessing mySV2.