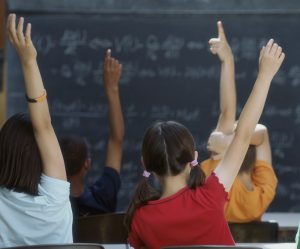 SV2 is learning… about learning!
With Partners Alison Elliott and Jon Goulden at the helm, SV2 has embarked on an Education Learning Year, a series of learning sessions about our local education landscape. Check out recordings of our first three sessions – What's Behind the Achievement Gap on Sep. 15 (audio); How the System Works: Politics and $$ on Oct. 18 (video); and Schools that Beat the Odds on Nov. 17 (video).
While recent Education Grant Rounds have delved into specific approaches to the challenges of our educational system, the Education Learning Year seeks to provide a broader, more holistic view of the larger educational landscape in which SV2 and its grantmaking are operating.
We kicked off the year in September with What's Behind the Achievement Gap, hearing from a panel of practitioners and experts on the state of education equity and the achievement gap in California. In October, we learned all about school funding from Mark Skvarna, Chief Business Officer at Santa Clara County Office of Education. We then tried our own hands at balancing a school budget – Alison Elliott led us in a fascinating interactive simulation that helped us understand just how complex school funding can be.
Finally, in November, we convened a panel of educational leaders from schools that are "beating the odds." Moderated by Sarah Tucker from Innovate Schools, these school leaders – whose schools had all been named World Class Schools by Innovate – talked about on-the-ground learnings from their experience at innovative schools that have seen results.
There are still many ways to get involved! The Education Learning Year is part of a new hybrid approach SV2 is piloting for our education programming this year. If you'd like to engage in our educational programming, choose from one or more of the following options:
Stay tuned for more information about the January Education learning session coming soon.
If you'd like to roll up your sleeves, Partner Kelly Pope is leading a working group of Partners who want to engage in a more hands-on landscape analysis of education needs in a Bay Area community. To learn more about the working group, please contact Kelly (kgpope@gmail.com).
Finally, Partners Aarti Chandna and Jim Basile are leading a Lightning Grant Round focused on Education after the Learning Year is complete. This round will take place twice, first in March (March 14 & 28, at lunchtime) and then in May (dates TBD, at dinnertime). For more information, contact Jody Chang, SV2 Grantmaking Officer (jchang@sv2.org).
A huge thank you to our Partner leaders for their hard work in helping SV2 and its Partners deepen our impact in this arena.