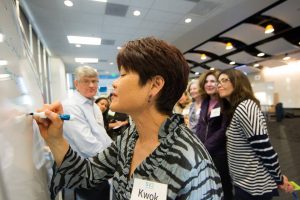 Each June, the SV2 Board Grants and Impact Investment Review Committee (GIIRC) hears updates on SV2's entire grant and impact investment portfolio and approves the renewal of multi-year grants. The GIIRC is led by Kelly Pope and committee members include Bill Brownell, Alison Elliott, Lisa Jones and Tony Stayner. This year, for the second time, the Portfolio Review meeting was open to the entire Partnership, in order to maximize this rich opportunity to learn about SV2's impactful and impressive portfolio.
Each of SV2's Grantees and Impact Investees is paired with two Lead Partners, who serve as liaisons between the organization and SV2. Part of their role is to report annually to the GIIRC on the progress, work, and impact of each organization. Their written reports, paired with reports written by the organizations themselves, serve as the basis for the Lead Partners' verbal reports to the GIIRC.
After hearing all the reporting, Partners reflected on the portfolio, especially on commonalities, with these insights:
Struck by scale and/or innovation

Impressive breadth

Broadly diversified

Local presence

ED's desire/ability to engage with SV2 is a key factor
Other key insights included an assessment of SV2's "beyond-the-dollars" (BT$) capacity building efforts:
Grantees seem to find most benefit from fundraising and networking support

Much of what SV2 offers most effectively (follow-on funding, networking) may not be fully articulated as a BT$ benefit

SV2 networks provide more benefits to some Grantees than to others

Matching BT$ support to Grantee needs can be an issue

BT$ can actually be a detraction to the Grantee, if the timing or fit for a project is not right

Think about settings where Grantees can "teach" each other to best utilize the SV2 community
We are eager to explore ways to use these Partner and Grantee-generated insights to continue to sharpen our grantmaking approach and Beyond-the-Dollars service to Grantees in the future. Thanks to all who joined us!