Greetings Partners,
On behalf of the SV2 Board of Directors, I am pleased to announce that we will have seats on the Board to be filled this spring. The SV2 Board has limited terms, and some current members will be terming off. There will be an open application process – any Partner who is interested in serving on the SV2 Board should fill out the Statement of Interest form, which you can access and download here.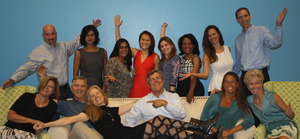 If you are interested in applying, please email your completed form to the chair of SV2's Nominating & Governance Board Committee, Nancy Lue, by May 4, 2018. The Nominating & Governance Committee will review all Statements of Interest in May and will be in touch with applicants individually at that time.
New Board members will attend a Board orientation over the summer, and begin serving on the Board in Fall 2018. If you have any questions about the SV2 Board or the Board application process, please do not hesitate to contact me. I look forward to serving with the new Board members who will help steward SV2 through our next exciting chapter.
With excitement and appreciation,
Bill Brownell, Board Chair