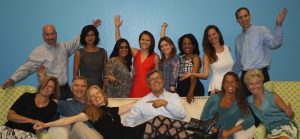 Are you passionate about SV2?  Might you be interested in helping steward SV2 through its next chapter? We're pleased to announce that SV2 will have seats on the Board of Directors to be filled this Spring.
There will be an open application process – any Partner who is interested in serving on the SV2 Board will need to fill out the Statement of Interest form.   If you are interested in applying, please email your completed form to the chair of SV2's Nominating & Governance Board Committee, Nancy Lue, by April 21, 2017. The Nominating & Governance Committee will review all Statements of Interest in May and will be in touch with applicants individually at that time.
New Board members will attend a Board orientation over the summer, and begin serving on the Board in Fall 2017. If you have any questions about the SV2 Board or the Board application process, please contact Nancy Lue or Board Chair Bill Brownell.