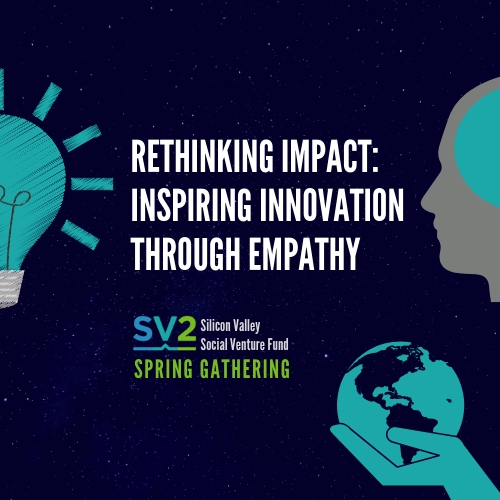 SV2 will host our annual Spring Gathering, Rethinking Impact: Inspiring Innovation through Empathy, on Thursday, April 11 from 6:00 – 8:30 PM at the Mitchell Park Community Center in Palo Alto. This year we'll feature innovation leaders who were inspired by their immersive experiences and empathetic understanding to develop out-of-the-box solutions to critical social challenges. Through storytelling and community connection, we hope to encourage our community of SV2 Partners, and current and alumni Grantees and Impact Investees to continue their work as positive change agents. We also welcome Prospective Partners who are interested in becoming an SV2 Partner to attend.
We'll take the conversation beyond the stage, leaving time to connect over hors d'oeuvres and drinks. And we'll honor one outstanding SV2 Partner who will receive the 2019 Laura Arrillaga-Andreessen Social Impact Award for his or her contributions to SV2's social impact and community. RSVP here.
We can't wait to see you there!
Speaker Bios: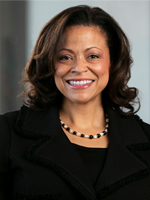 Nicole Taylor
President and Chief Executive Officer
Silicon Valley Community Foundation
Nicole Taylor is president and CEO of Silicon Valley Community Foundation. She brings together a rich background in Bay Area philanthropy, nonprofit administration and fundraising with extensive experience in both the private and public sectors.
In joining SVCF in December 2018, Nicole returns to the Bay Area from Arizona, where she served as vice president of the ASU Foundation. She also previously served as deputy vice president and dean of students at Arizona State University. Prior to her time at ASU, Nicole was the associate vice provost of student affairs and dean of community engagement and diversity at Stanford University, after serving as president and CEO of Thrive Foundation for Youth in Silicon Valley.
Nicole also spent more than 15 years with the East Bay Community Foundation, eventually serving as its president and CEO for six years. Nicole received both her M.A. in Education and A.B. in Human Biology from Stanford University, and she began her career as an educator in Oakland public schools. She served on the board of the Federal Reserve of San Francisco for six years and is currently a board member for Common Sense Media.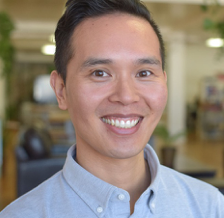 Rey Faustino
Founder and Chief Executive Officer
One Degree
Rey launched One Degree to ensure that all families have access to services they need to overcome poverty. Rey began his career as a teacher and later was the site director at BUILD, a college access nonprofit organization that propels low-income youth to attain a college education. Rey received his B.S. in Business Entrepreneurship from the University of Southern California and earned his Master in Public Policy from Harvard University's Kennedy School of Government. He is an alumnus of Y Combinator, an Echoing Green Fellow, and an Education Pioneers Fellow. Rey was nominated for the inaugural Visionary of the Year Award by the San Francisco Chronicle. In his spare time, Rey practices yoga, plays with gadgets, and builds furniture from scratch.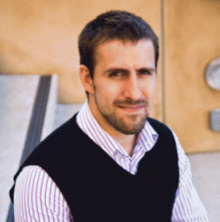 Adam Kircher
Co-Founder, Product & Technology
SIRUM
Adam Kircher leads recipient operations and is the chief architect of SIRUM's patented technology. By day, Adam manages operations and uses technology to automate Good Pill Pharmacy. By night, Adam works as a liaison to the National Conference of State Legislatures and has written drug donation policies that have been incorporated into several state laws and regulations.
Adam originally founded SIRUM as a student project and left a full-tuition scholarship at Harvard Business School to work on SIRUM full-time. He brings broad experience to SIRUM as a full-stack software engineer and former management consultant at McKinsey & Company, where he worked across various healthcare verticals, including pharmaceuticals.
Adam received his bachelor's and master's degrees from Stanford University in Management Science and Engineering, where he graduated Phi Beta Kappa and Tau Beta Pi. Personally, Adam enjoys playing sports; while at Stanford Adam's Varsity Crew boat placed 5th in the nation, the best in Stanford's history. After McKinsey, Adam trained for and completed an Ironman Triathlon. After growing up in Florida and living in California, Adam has developed an aversion to cold weather of any kind.
Event Sponsor: