In October, ten SV2 Partners and CEO David Onek took an unforgettable journey with Telos Group to New Orleans, Jackson, Selma, and Montgomery, into the heart of the US racial justice and civil rights movement. Participants visited key historical sites and met with local advocates and leaders, deepening their understanding of our history and of the advocacy efforts on the ground today. Getting proximate is a key SV2 practice and this trip was another step in listening to and learning from multiple community voices.
Participants visited Congo Square, Whitney Plantation, the Louisiana bayou, the Mississippi Civil Rights Museum, the Edmund Pettus Bridge, the National Voting Rights Museum, the Legacy Museum and the National Memorial for Peace and Justice, among other sites. Even more impactful were meetings with local advocates and leaders such as Konda Mason from Jubilee Justice, Luther Gray of the Congo Square Preservation Society, Monique Verdin of the Houma Nation, Will Snowden from the Vera Institute of Justice, Everett Ofray and Louis Gibson from Orleans Public Defenders, Bishop Ronnie Crudup from New Horizon International Church, Cassandra Welchlin and Toni Johnson from Mississippi Black Women's Roundtable, Kyita Welchin and Amyah Akharume from Mississippi Black Youth Vote, Freedom Rider Hezekiah Watkins, former US Agriculture Secretary Mike Espy, voting rights advocate JoAnne Bland, Ainka Sanders Jackson of the Selma Center for Truth, Nonviolence, and Reconciliation, and Montgomery-based artist and activist Michelle Browder, among others.
SV2 Partner Paru Desai will be hosting a lunch and learn event in January and a video will be forthcoming. In the meantime, we invite you to read snippets from their group journal.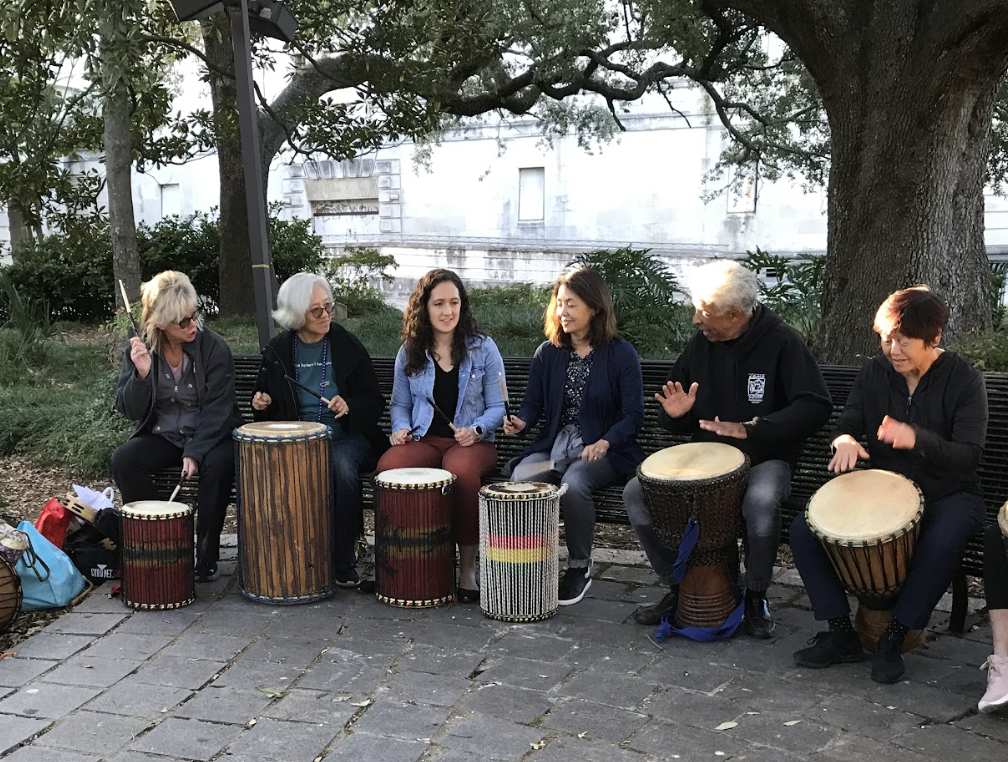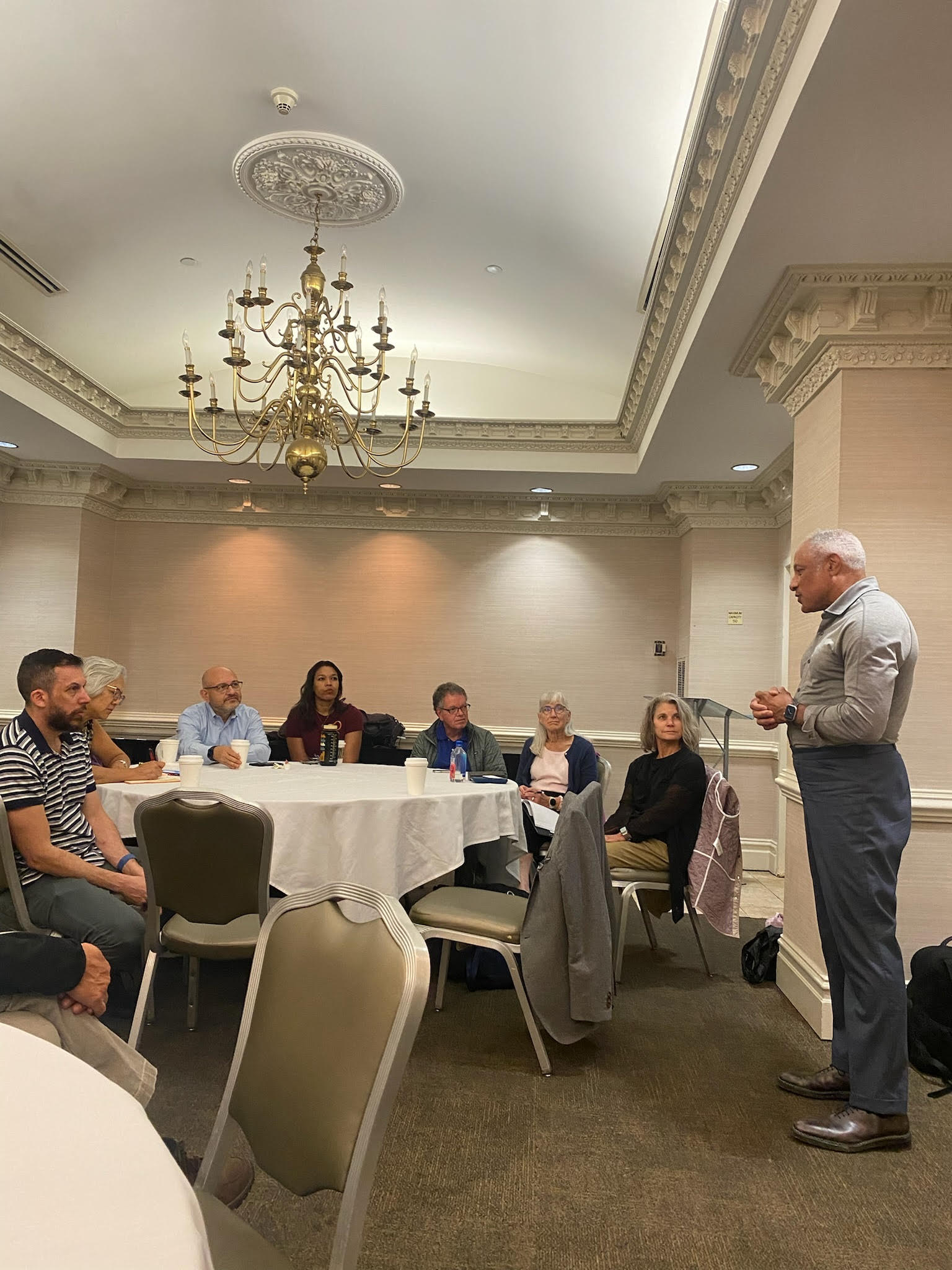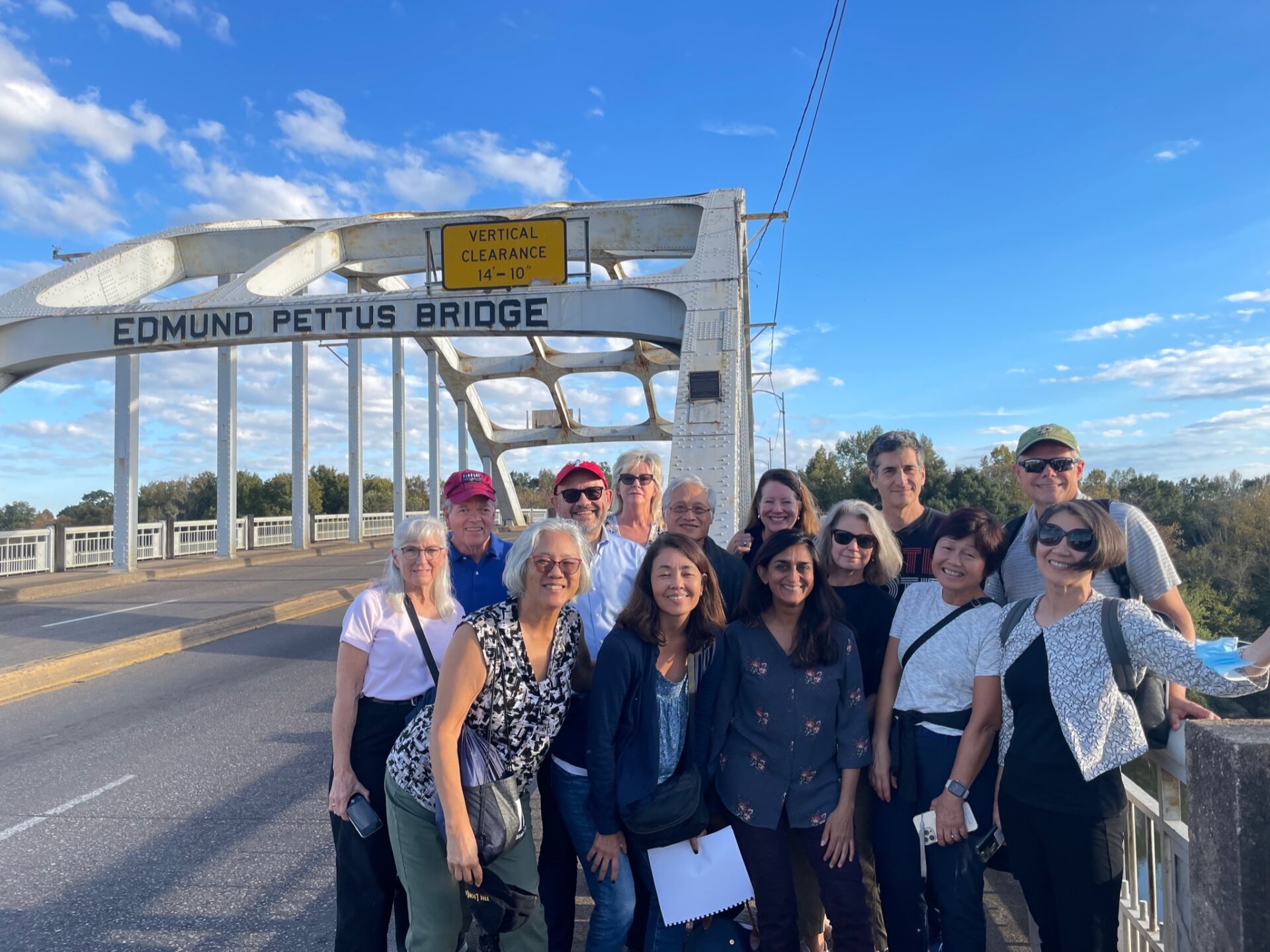 October 18, 2022
Paru: On the eve of the trip, doing some logistical work of group email and setting up text message – looking forward to seeing everyone tomorrow! This trip is a few years in the making – planned for 2020 but as with so many things, the pandemic forced a change of plans. In some ways, perhaps the moment is more right for it to happen now after the events and learnings of the last few years?
October 19, 2022
Alice: Just re-read Letter from a Birmingham Jail on the plane. It's even more compelling than I'd remembered. (I was thrilled when it was the second reading assignment my son had as a freshman in college, just a few weeks ago; the first was Michelle Alexander's The New Jim Crow!) MLK Jr's voice is so powerful and eloquent, but it was a little jarring how so much of what he says is still so relevant today, especially the section "just" versus "unjust" laws and complacency of so much of organized religion when it comes to social justice. I also continued reading How the Word is Passed, including the chapter on the Whitney Plantation in preparation for tomorrow. Parts of it were hard to read, and I expect it will be even harder to see in person.
October 21, 2022
Don: Lots to process from yesterday's visit to Whitney Plantation. Delighted to hear Konda's innovative approach to rice, but sad to hear the loss of land.
October 24, 2022
Kwok: The experiences on this trip demonstrates the power of storytelling from the first person to engage minds and change hearts. Examples that stick with me are Monique, talking about the disaster of the oil spills, and the direct impacts of climate change on her community. Luis and Buck and their lived experiences in dealing with a justice system that is rigged against them. Hezekiah and his personal story with the freedom riders. JoAnne and her experiences dealing with the violence and hatred fueled by racism in her fight for voting rights. They make us deal with the painful truth of our history, but also they share the promise that with courage, belief and hard work over time , the fight for equity will make a difference.
October 26, 2022
Grace: The training at the Selma Center for Nonviolence Truth and Reconciliation was phenomenal. Powerful learning and testimonials and delectable food (Mama Callie's collard greens slow-cooked with smoked turkey, baked chicken with homegrown and hand-ground herbs, Uncle's recipe macaroni and cheese, jalapeño cornbread, and peach-bursting cobbler). So much makes sense in how violence (active and passive) is fear-based, and how the steps of nonviolence (as opposed to non-violence) apply to so much conflict in our world. As Mama Callie sings, "Hold on, hold on."
For more information on the US South Trip, please get in touch with Paru Desai at desaiparu526@gmail.com.