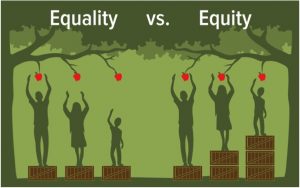 On Thurs., March 9, SV2 hosted a dynamic discussion around the role of philanthropy in advancing equity. The panel, moderated by SV2's Director of Grantee Impact, Ashley Clark, featured an outstanding lineup of philanthropy practitioners including Fred Blackwell, CEO of The San Francisco Foundation; Ellen LaPointe, President and CEO of Northern California Grantmakers; and Justin Steele, Principal at Google.org. If you couldn't make it but are curious to learn more, you can check out the video here.
During the conversation, we discussed what exactly equity is (spoiler alert: there are some great images that you'll want to check out!), why this work is integral to grantmaking, how we can advance equity as individuals, and what it might look like for a philanthropic organization to focus on equity.
In this session, we established some common language around the meaning of equity, diversity, and inclusion, as we reflected together on  how we might continue our learning journey individually and as an organization. And because we could only cover so much in an hour and a half, we hope that this conversation will be the first of many.
A number of SV2 Partners have expressed an interest in the creation of a my.SV2 group to share articles and learning opportunities and engage in further discussion related to philanthropy and equity. If you'd like to be added to the distribution list, please email Ashley Clark.